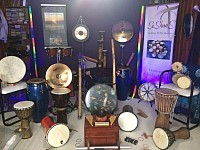 Rhythm is truly a language
Rhythm succeeds where words fail

Hand Drums have an extraordinary and consistent ability to create states of euphoria ~ induce light trance ~ promotes play ~ releases anger and promote feelings of community and unity.
Drumming is fun
It can change your mood and connect you powerfully with others ~ can entrance and heal ~ can provide a vehicle for expressing joy, frustration and peace and can raise energies and provide relaxation.

Hand drumming as therapy is an ancient approach that uses rhythm to promote healing and self-expression. It has been used for thousands of years to create and maintain physical, mental and spiritual health.

Drumming accelerates physical healing, boosts the immune system and produces feeling of well-being, a release of emotional trauma, and reintegration of self.

Whether we participate for the spiritual experience, the emotional experience, the musical experience or the social experience, drumming can bring many hearts and souls to many destinations ~ yet we journey together.



It's not about inspiring successful drumming...                                  

                                        It's about inspiring successful living.




Everyone Welcome ~ No Experience Necessary