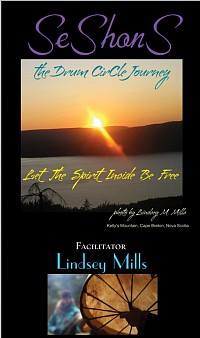 SeShonS is the creation of Lindsey Mills


In 1990 my journey began when I had a vision to bring together a group of diverse people to gather in a circle to create "in-the-moment" recreational music.


I create a space that is warm, beautiful, spiritual, fun, supportive and a safe environment.

As a Music Educator & Drum Circle Facilitator ~ I feel drumming provides an experience of togetherness and synchronicity in the sense of being one with each other.

I have experienced that when we are all in a room together during a drum circle ~ and even if we possibly feel out of sync in one way or another in our own life's journey ~ being a part of something magical like the drumming helps us experience a transported state of being one with each other.


It is a feeling of something special through being with others ~ something occurring in all of us at the same time which is creating a strong connectedness ~ which is healing and euphoric all at the same time.