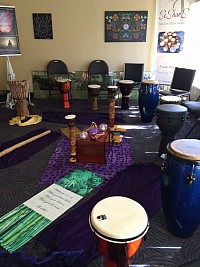 Drum Circle Facilitator & Founder, Lindsey Mills

Facilitating Drums Circles for team building, spiritual style events, family fun events, drum therapy of all aspects… the sky is the limit with the variety of Drums Circles that I facilitate.
A
ll of my Drum Circle Facilitations are tailored to the needs and wants of each client, event or venue.
I bring a variety of 10 hand drums and other percussive instruments.
If there are more than 10 participants it is encouraged that participants borrow and/or bring their own to share with others and/or rent from a music store.
Space needed: a room that will allow armless chairs to be placed in a circle.
Needed: 12 ARMLESS chairs or more depending of size of drum circle.
Drum Circles can be 6 people up to 50+ people.